Berthe Morisot: The Woman Impressionist
Introduction
Berthe Morisot (Bourges, 1841-París, 1895), was the first woman to join the Impressionist movement. Born into an upper middle-class French family and educated in the arts and music, she managed successfully to combine her facet as an artist with the role of modern woman and active advocate of culture. The model and friend of Manet, whose brother Eugène she married, she was an ally of the Impressionist painters -including Degas, Renoir, Monet and Pisarro- and exhibited work of her own at virtually all of their exhibitions. Admired by intellectuals of the calibre of Mallarmé and Valéry, Morisot played a key role in the development of French Impressionism.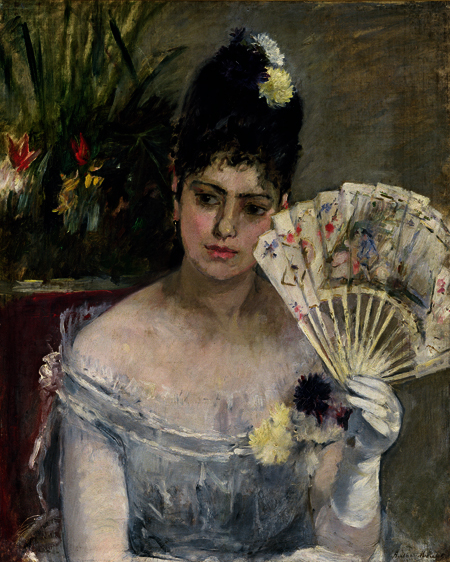 Berthe Morisot (Bourges, 1841- París 1895)
At the ball (Au bal)
Año

1875

Técnica

Oil on canvas

Medidas

62 x 52 cm

Propiedad

París, Musée Marmottan Monet ©Bridgeman Giraudon; inv.:4020
Berthe Morisot. The Woman Impressionist, brings together a selection of works mainly from the Musée Marmottan Monet in Paris and is the frist monographic exhibition ever dedicated to the artist in Spain. The sensitivity of her landscapes, acquired from Corot, her mastery of portrait painting, learned from Manet, and her Impressionist depiction of gardens, rural scenes and domestic interiors allow us an insight into the most outstanding aspects of her pictorial work. Through her introspective, at times melancholic style of painting with rapidly-applied brushstrokes capable of the lightness of watercolour, Morisot immerses us in her own intimate world and a delicate exploration of femininity- features son constant in her work that the writer Paul Valéry was prompted to describe her painting as "the diary of a woman expressed through colour and drawing».