The Major Retrospectives

Shortly after his arrival in Paris in 1906, Modigliani enrolled at the Académie Colarossi and also visited the leading galleries of the day, where he saw works by Gauguin, Van Gogh, Toulouse-Lautrec, Cézanne, Matisse, and the young Picasso. Following his first contacts with the Paris art world, Modigliani not only realised that his academic training had been of little or no use to him, but also encountered the total rejection of earlier art on the part of the emerging avant-garde in the French capital.

Modigliani's early years in Paris coincided with various retrospectives that would be of crucial importance for the subsequent development of modern art, including those on Gauguin and Cézanne organised by the Salon d'Automne in 1906 and 1907 respectively. Cézanne's work confirmed Modigliani's own interest in the art of the Old Masters combined with the use of a completely modern artistic idiom.

Few works from Modigliani's earliest years in Paris have survived, largely due to the fact that he had to leave his various studios hurriedly when he was unable to pay the rent. The pieces on display here bring to light the way in which the artist began to develop his own style, inspired by the examples of Cézanne, Gauguin, Toulouse-Lautrec, Munch, and Picasso.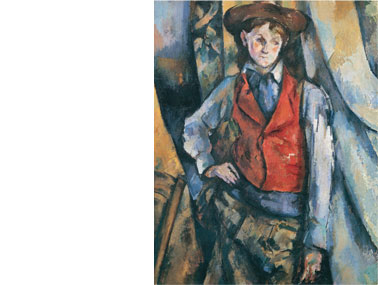 Paul Cézanne
Boy in a Red Waistcoat, 1888-1890
Oil on canvas. 89.5 x 72.4 cm
National Gallery of Art, Washington D.C.
Collection of Mr. and Mrs. Paul Mellon, in Honor of the 50th Anniversary of the National Gallery of Art
© Image courtesy of the Board of Trustees, National Gallery of Art, Washington D.C.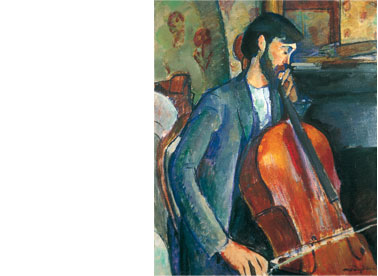 Amedeo Modigliani
The Cellist, 1909
Oil on canvas. 73 x 60 cm
Abelló Collection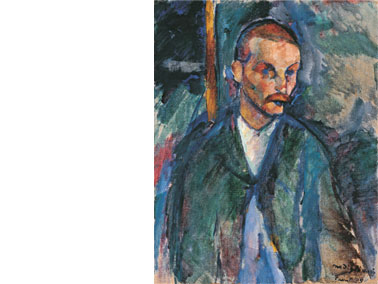 Amedeo Modigliani
The Beggar of Leghorn, 1909
Oil on canvas. 65.8 x 53.4 cm
Private collection