Architectural paintings
Introduction
Throughout the history of painting the depiction of architecture has been a tool which has provided the viewer with details and keys to interpreting compositions. Beginning chiefly in the Renaissance, architectural settings steered a new course imbued with knowledge and theories and vindicated the status of the artist, subsequently becoming an instrument of propaganda and power in the hands of the clients who commissioned them and later on, in the eighteenth century, a new genre in which the city was the sole subject.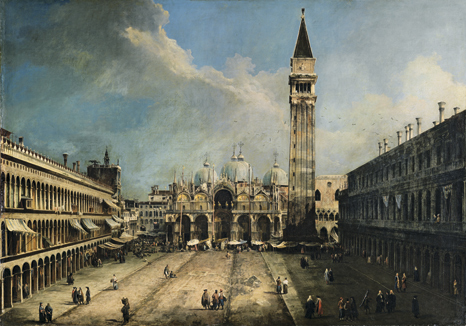 Giovanni Antonio Canal, known as Il Canaletto (Venice, 1697-1768) La Piazza San Marco in Venice
Año

c.1723-1724

Técnica

Oil on canvas.

Medidas

141.5 x 204.5 cm

Propiedad

Madrid, Thyssen-Bornemisza museum; inv. 75 (1956.1)
Architectural paintings. From the Renaissance to Eighteenth Century is divided into two sections. At the Museo Thyssen-Bornemisza visitors will be able to view works executed from the Renaissance to the seventeenth century, whereas the eighteenth century is explored in depth at Fundación Caja Madrid.