Hopper

Presentation

The exhibition brings together the largest and most ambitious selection of works by the US artist ever to be shown in Europe, with loans from major museums and institutions including the MoMA and the Metropolitan Museum in New York, the Museum of Fine Arts, Boston, the Addison Gallery of American Art, Andover, and the Pennsylvania Academy of Fine Arts, Philadelphia, in addition to various private collections and with a particularly generous loan from the Whitney Museum of American Art, New York. The latter is sending 14 works from the Bequest of Josephine N. Hopper, the artist's wife.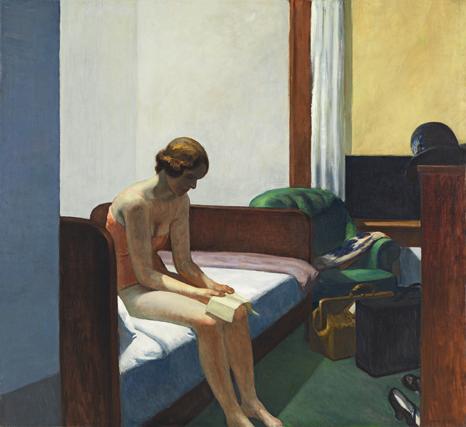 Edward Hopper (Nyack, 1882 - New York, 1967).
Hotel Room.
Year

1931.

Tecnic

Oil on canvas.

Sizes

152.4 x 165.7 cm.

Property

Thyssen-Bornemisza Museum, Madrid.
Within the context of Europe, Hopper is one of the best known and most highly appreciated American painters. Despite this, however, his works have only been seen here in public exhibitions on a limited number of occasions. With the aim of rectifying this situation and of bringing his work to the attention of a wider public, two major cultural institutions of particular importance for the artist and his work have joined forces. The Museo Thyssen-Bornemisza houses the most significant collection of Hopper's works outside the United States, while in the case of the Réunion des musées nationaux, Paris and early 20th-century French painting were key reference points for the start of Hopper's career.

This exhibition in Madrid includes 73 works and it offers an analysis of the artist's work structured into two principal sections. The first opens with Hopper's time in the studio of Robert Henri at the New York School of Art and covers the years of his training, with works from around 1900 to 1924 that start to reveal his particular and distinctive style. Paintings, drawings, prints and watercolours are displayed alongside various works by other artists including Henri, Félix Vallotton, Walter Sickert, Albert Marquet and Edgar Degas in a dialogue that recreates the one that existed between Hopper and these artists at the time.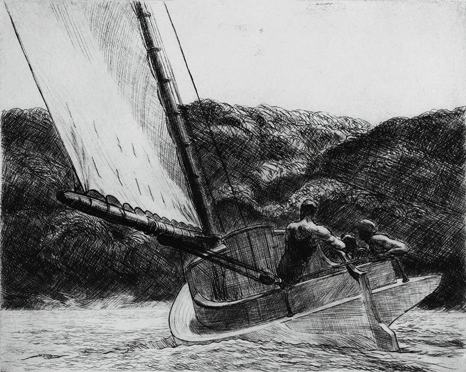 Edward Hopper.(Nyack, 1882 - New York, 1967)
The Cat Boat.
Año

1922.

Técnica

Grabado.

Medidas

35.56 x 37.78 cm.

Propiedad

National Gallery of Art, Washington, Rosenwald.
Collection 1949. Inv.:1949.5.70
The second section focuses on Hopper's mature work and is arranged thematically in order to emphasise the most frequently recurring themes and motifs in his work, while also maintaining a chronological flow.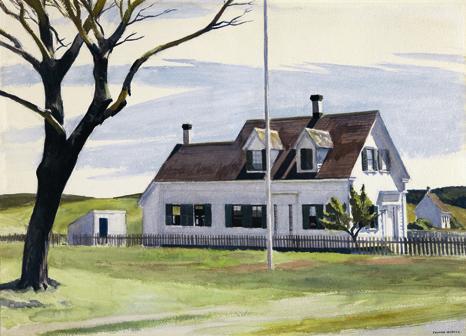 Edward Hopper.(Nyack, 1882 - New York, 1967)
Dead Tree and Side of Lombard House.
Año

1931.

Técnica

Watercolor on paper.

Medidas

50.8 x 71.2 cm.

Propiedad

Thyssen-Bornemisza Museum, Madrid.