Hopper

Training and Influences

The most important influence on Hopper's training was the realism championed by his teacher Robert Henri. This realism constituted both an opposition to academicism, which was still notably present in the early 20th century, and to so-called American Impressionism, which was a type of modern art that the realists considered artificial and alien to American culture. The first public manifestation of the new trend was a group show organised by Robert Henri in 1908 at the Macbeth Galleries in New York. Apart from Henri himself the most important representatives of the new style to be seen in the exhibition were John Sloan and George Bellows. Although Hopper remained apart from the group he was close to it and shared its artistic ideas and historical references to a considerable degree, particularly an admiration for Velázquez, 17th-century Dutch realism, Courbet and Manet. Hopper's trips to Paris (from where he made short visits to Holland and Spain) confirmed his commitment to realism but also allowed him to study Impressionist painting, which had a decisive influence on his way of understanding colour. Other painters who interested him and helped him to formulate his own pictorial language were Albert Marquet, Félix Vallotton and the British painter Walter Sickert. Sickert was a follower of Degas, who would ultimately prove Hopper's most important and long-lasting influence. Not only did he adopt and reinterpret many of Degas' pictorial devices but also assimilated his elusive and intimate concept of modern life as well as Degas' awareness of the artist's privileged but marginal position in society.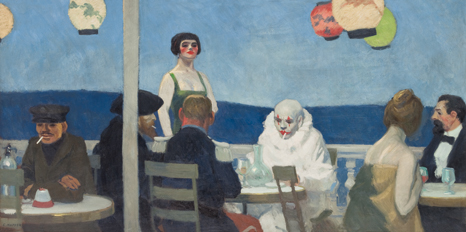 Edward Hopper (Nyack, 1882 - New York, 1967). Soir bleu.
Año

1914.

Técnica

Oil on canvas. 91.4 x 182.9 cm.

Propiedad

Whitney Museum of American Art, New York,
Josephine N. Hopper bequest; inv. no. 70.1208
Painted in New York in 1914, Soir Bleu is the masterpiece that summarises and concludes Hopper's years of study and learning. Titled in French by the artist with a reference to a line of verse by Rimbaud, the painting depicts an evening scene on a café terrace in Paris and should be interpreted as an allegory of modern life. The figure of Pierrot, a self-portrait of Hopper that occupies a central position in the composition, would only reappear once more in his work, in his final painting, Two Comedians (1966).