Into India
Introduction
Into India: South Asian Paintings from The San Diego Museum of Art is a tour of the wondrous book arts of the Subcontinent from the twelfth to nineteenth centuries. Featuring 106 works from illuminated sacred manuscripts, illustrated books of Persian poetry, and albums assembled by elite connoisseurs, this exhibition reveals the remarkable ways that Indian artists adapted their styles and artistic practice to accommodate the wishes of patrons who were culturally rooted in foreign traditions. These Indian artists were able to create paintings that were as vital as they were valuable to their patrons, who were of Persian, Central Asian, or European extraction, while maintaining an underlying quality that remained unmistakably Indian.

The works on display in Into India are drawn from the nearly two thousand paintings, largely assembled by Edwin Binney 3rd and bequeathed to The San Diego Museum of Art upon his death in 1986.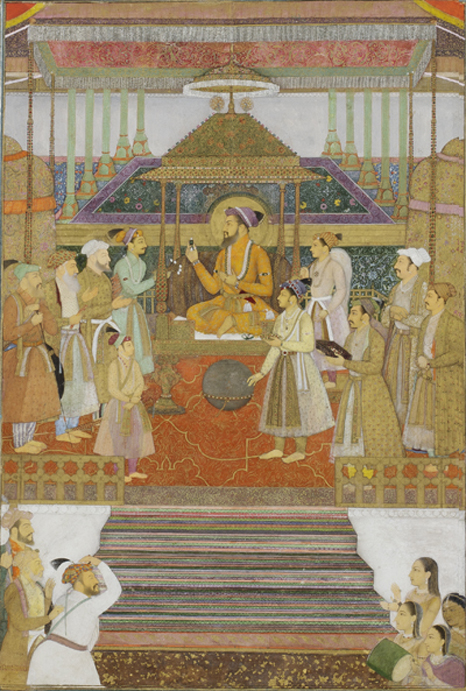 'Abid, son of Aqa Reza.
The Emperor Shah Jahan on the Peacock Throne.
From the Padshahnama («Histories of the Reign of the King of the World»)
Year

India, 1640.

Technical

Opaque watercolor and gold on paper, mounted as an album page.

Measures

36.7 x 25 cm.

Property

Edwin Binney 3rd Collection. 1990.352.