Into India
Sacred Illuminations
Indigenous Indian Paintings for Scripture and Devotion.
On display in the first gallery are paintings made for indigenous Indian devotional purposes. These artists illuminated sacred texts for Buddhist, Jain, and Hindu patrons who commissioned them as an act of religious merit. The earliest works were created on palm leaf in the horizontal format, which artists retained even after the introduction of paper in India by the beginning of the fifteenth century. Color palettes were limited, and the iconic or narrative scenes were rendered two dimensionally with flat backgrounds. The indigenous Indian painting tradition continued alongside the works made to suit Persian or European tastes, both in India and, in the case of Buddhist art, in Nepal and Tibet.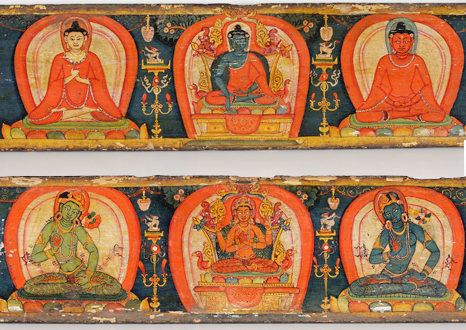 Pair of Bookcovers (detail).
From a Pancharaksha («The Five Protections»)
Año

Kathmandu, Nepal, 1138.

Técnica

Opaque watercolor on wood.
5.56 x 60.01 cm

Propiedad

Edwin Binney 3rd Collection. 1990.156.